Many professionals are driven by the desire to develop and grow.

Some take the path of a technical specialisation, with in-depth development of competencies so as to become a technical expert.

Some dream of climbing up the ladder and of becoming Team Leader, Managers or Leaders.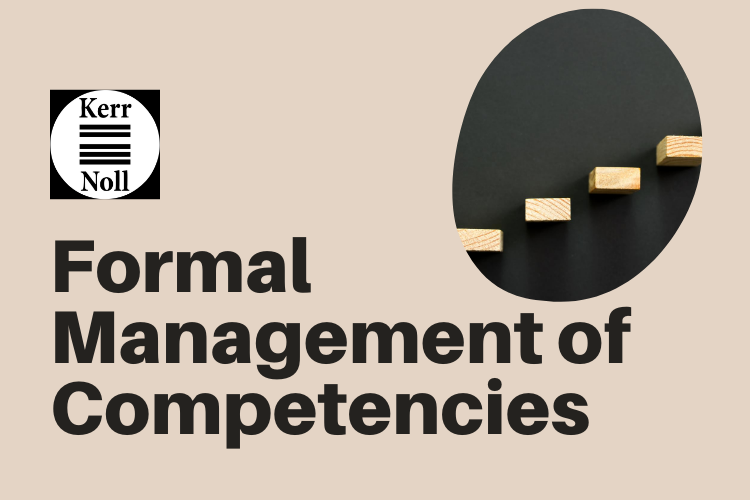 In both cases, these professionals need to develop their competencies to reach their objectives; and preferably, they need to manage those competencies as valuable assets.
Competency Matrix
Managing competencies may serve many purposes, as it is shown below:
It is a powerful practice to harness in order to build one's career development roadmap.
The most powerful tool to formally manage one's competencies is the Competency Matrix or Competency Register.
It is typically presented as:
A list of competency items and;

A scale of competency level or proficiency level - typically a 3 to 6-point scale.
The Competency Matrix gives professionals an objective, rational, measurable means of assessing their current competencies and to identify any potential skill gaps separating them from: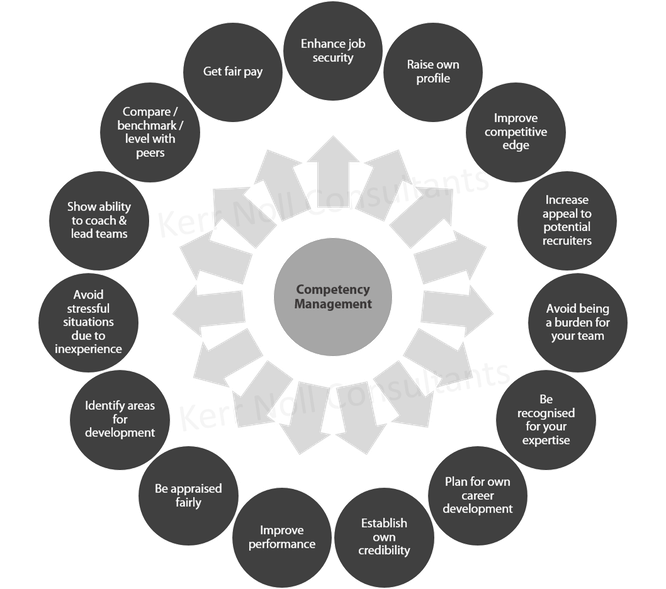 Better performance in their current position; or
A future target position (eg in Management or Leadership),
with the approach that identified gaps should lead to professional development objectives.
How the Competency Matrix can be used
A Competency Matrix helps answer questions such as:

When it is used for discussion with one's hierarchy, it provides a fair tool for performance appraisals and discussions on level of experience and seniority.
It enables professionals to build and strengthen their credibility and their appeal to current employers and potential recruiters.
It can also allow Team Leaders and Managers to compare competencies within their team or department.
There are two main types of Competency Matrix (CM) angles:
1 - The Specialist CM

2 - The Progression CM

Characteristics

All registered competencies pertain to a specific profession or type of activity.

Most registered competencies pertain to a specific profession.

However, the CM also includes additional, peripheral skills to allow for growth into interfacing positions or into more senior positions.
Examples for Specialist CMs include the Kerr Noll Consultants' Leadership Competency Matrix and the Kerr Noll
Oil & Gas Process Engineering Competency Matrix.
Long-term career planning

A Competency Matrix is more powerful and more effective when it shows, side-by-side:
Current level of competencies; and
Future (targeted) level(s) of competencies,
as it is shown in the below example: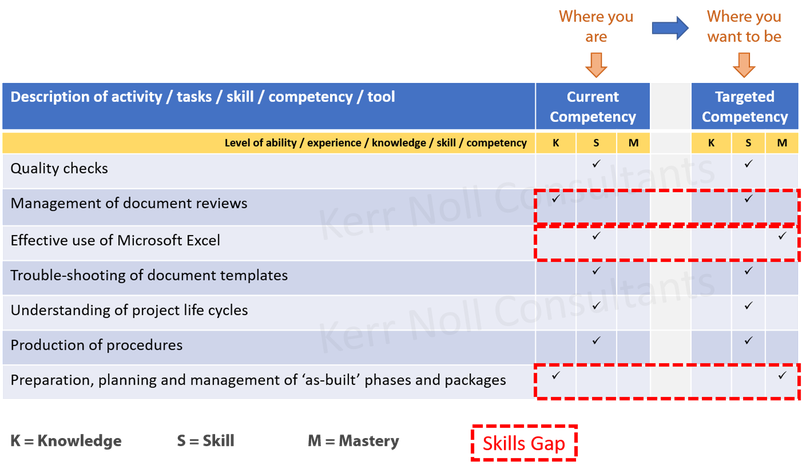 Developing and maintaining one's Competency Matrix requires frequent updates of competency levels, resulting from actioning professional development plans. A workable rule of thumb for update frequency is (ideally) twice or once a year.
Professionals who manage and develop their competencies usually have greater job security, either through direct and continued employment or by being recommended for new job opportunities through word of mouth or by colleagues, friends, acquaintances or professional contacts.
---
Further information:
Kerr Noll Consultants have developed two Competency Matrix models.

They come in the form of Excel spreadsheets and they use the Consepsys 'NAKISM' competency scale.
 

Kerr Noll Division

Leadership & Organisational Efficiency

Engineering Leadership

Number of competency areas

160+

340+


Covered competency areas – a few examples

Strategic thinking.

Skill in driving performance in others.

Political skills.

Communication skills.

Equipment sizing.

Fluid dynamics.

Development of drawings.

Experience with technology.

Knowledge of standards (API etc).

To find out more