The success of businesses is a function of how effectively they optimise their costs and how efficient their operation is. The most successful businesses are often those which have developed the mechanisms to learn, improve and transform mistakes and failures into lessons for future success.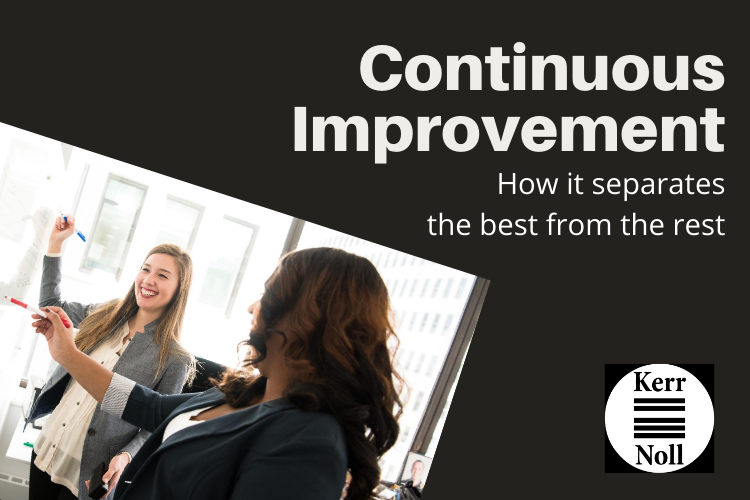 Being the best does not happen on its own. It takes strategy, vision, adapted mechanisms to collect, capture and analyse, and sharp insight to draw correct conclusions and to devise appropriate correction plans.
A culture of Continuous Improvement is required to sustain such a level of excellence.
Strategy and vision
A Continuous Improvement culture starts with the desire to be the best and with a master plan to get there or to stay there. It takes goals to achieve. It also takes a strategy, involving an approach, a method, tools to develop, frequent progress checks and means to measure success.

Problems = learning opportunities
Continuous Improvement is a state of mind. It is embracing each situation, each problem, each crisis with an open mind and the desire to learn a lesson and to integrate it in our own professional culture. Many people see problems as something of which to get rid as soon as possible and to forget. High-achieving individuals and entities see problems as an opportunity to learn and, instead of trying to forget what happened, they reflect on it and they promise themselves not to ever make that same mistake again, not to ever let the problem grow to such proportions again, or not to ever ignore the warning signs again.
Shortcut learning
Businesses usually learn best after they have made a mistake and suffered its consequences. However, some of the very best have an even more clever approach: they observe what happens around them and they actually learn from the mistakes of other businesses. This mindset speeds up their learning process, by multiplying opportunities to learn. It would take a lot of time to learn only from one's own mistakes. It takes a lot less time to learn from the mistakes of other's and one's own at the same time. This applies to businesses, but it also applies to individuals.
Creating a culture
In a company with a strong safety culture, people must be aware of safety in all their day-to-day activities. Applying Continuous Improvement resembles living in a safety culture: people must be aware of Continuous Improvement in all their day-to-day activities and they must be encouraged and empowered to contribute to the overall effort. Being empowered can involve going on training courses, being kept informed of advances, new techniques methods and practices, having accessible and transparent mechanisms to capture improvement ideas and celebrating improvements as a team.
Being the best is a continual commitment that can be achieved with vision, method and tools.
---
---